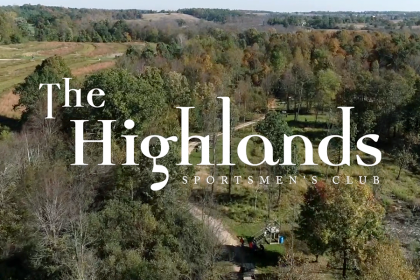 Less than an hour outside of the City of Milwaukee sits this much-needed oasis from the hustle and bustle of urban living. At The Highlands Sportsmen's Club, all those who long for a countryside escape where they can kick back and let loose in good company are welcome.
We provide exclusive access to 600 acres of private land, complete with eight separate hunting fields and shooting practice at The Ranges, in front of which sits our very own vineyard, winery, and meadery, SoLu Estate. But that's not all! Let us walk you through everything The Highlands has to offer.
What can I do at The Highlands?
There's a little something for everyone at The Highlands Sportsmen's Club. Whether you want to practice your shooting, go on a guided hunt, or sip on wine with friends, we've got you covered.
Hunting
Feel all the freedom of hunting in the middle of nowhere without having to drive to the middle of nowhere. Schedule a private hunt for you and your family, friends, or colleagues, and enjoy a premier upland bird hunting experience on our meticulously cared-for grounds. We've worked diligently to respect and maintain our land's natural ecosystem, which also applies to how we source and care for the birds we use in our hunts.
Did you know that our property is dog-friendly, too? We have a long history of raising and training hunting dogs, and you're bound to see our dogs leisurely meandering about and looking for belly rubs when not out on a hunt. You're welcome to bring your own hunting dog for your hunt, borrow one of our dogs, or bring in a trainer to teach your dog how to become a hunting dog on our grounds.
Learning
For those looking for more guidance before they head out on a hunt, The Highlands offers you the ability to receive official handgun training and concealed carry classes from a well-respected expert. Training and classes are available either one-on-one or in a group setting and take place at our on-site facility, called The Ranges. Here is where you'll find Wisconsin's longest rifle range, as well, where you can practice your long-range shooting.
Socializing
There's nothing quite like a warm meal and a good glass of wine. After an exhilarating hunt, you can head to our Clubhouse, where our staff will have a hearty spread waiting. If your family would like to come with you and relax while you're out in the fields or on the days you don't feel like hunting, the Clubhouse and SoLu Estate give you a comfortable space to spend time and enjoy a drink in. We also have a regular schedule of rotating live music in summer on the winery's patio, as well as host a variety of events throughout the year that all members are invited to attend.
How can I become a member of The Highlands?
We are currently accepting individual applications for the 2021/2022 season. The Highlands also offers a limited number of corporate memberships. To get all set up, you can either fill out the online form on our website, give us a call at +1 (920) 528-8848, or come visit us in person. The Highlands Sportsmen's Club sits amid the Kettle Moraine in Cascade, WI, at N3041 County Rd A.
Are you ready to see the magic of The Highlands? Schedule a guided tour today!